Multiples on Smarkets
Smarkets now allows you to combine multiple selections from our sports events into a single bet that you can choose to either buy or sell.
Here are some key things to note about multiples on Smarkets:
You can only add buy (back) selections from sports to a multiple (you will still be able to sell (lay) the multiple after selecting buy prices)
You can then choose to buy or sell the multiple at the price shown in the multiples betslip
You can only sell the multiple if every selection has available liquidity on the sell side in their respective markets
You can have up to 10 selections in a multiple
You cannot combine more than one selection from the same single event/match
You cannot include selections from ante-post horse racing markets or long-running, outright markets (e.g. title winner)
For now, multiples are only available via our web platform at smarkets.com. We are working to introduce exchange multiples on the app soon
How to place a multiple bet on Smarkets
Simply add buy selections to your multiples betslip on the right-hand side and then choose whether you want to buy or sell the whole multiple by using the tab at the top of the betslip.
You can choose to add or remove selections from the multiple by using the toggle on each selection.
In the example below, if you combined four football teams to win into a multiple bet, you can choose to either buy the multiple at decimal odds of 42, or sell the multiple at odds of 46.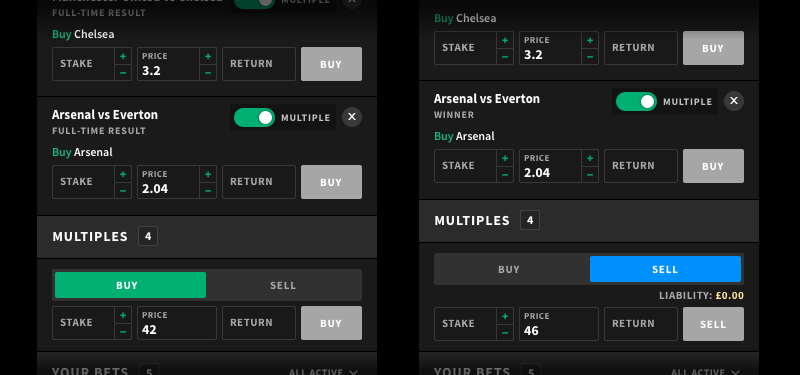 If you buy the multiple, all four teams would need to win for you to win the bet. If selling the multiple, you will win the bet if at least one team fails to win.
For example, you have selected Arsenal, Chelsea, Southampton and Watford to win. If you have sold the multiple and Arsenal, Southampton and Watford win, but Chelsea lose, you will still win the bet as all four teams have not won.
With all multiples, whether buying or selling, Smarkets is the counter-party matching the bet. The price of the multiple is formed from the original odds but not an exact accumulation. You cannot edit the price of a multiple.
---