Trade out button on Smarkets
The trade out button on Smarkets allows users to lock in a profit or cut losses per contract both pre-game and in-play at the click of a button.

Smarkets calculates the trade out in real time based on live contract prices.
Benefits
The new feature allows users to:
Lock in a profit
Reduce exposure
Cancel out a previously matched bet on the same contract

When is trade out activated
The trade out feature is activated when:
You have matched bets on a contract
Exposure is not £0
There is enough volume on the market

How to use the trade out button
1: If available, the trade out button

will appear on the market overview next to the contract.


2: Once you have clicked the trade out button, the form will appear below the contract. This details the buy/sell stake and the price.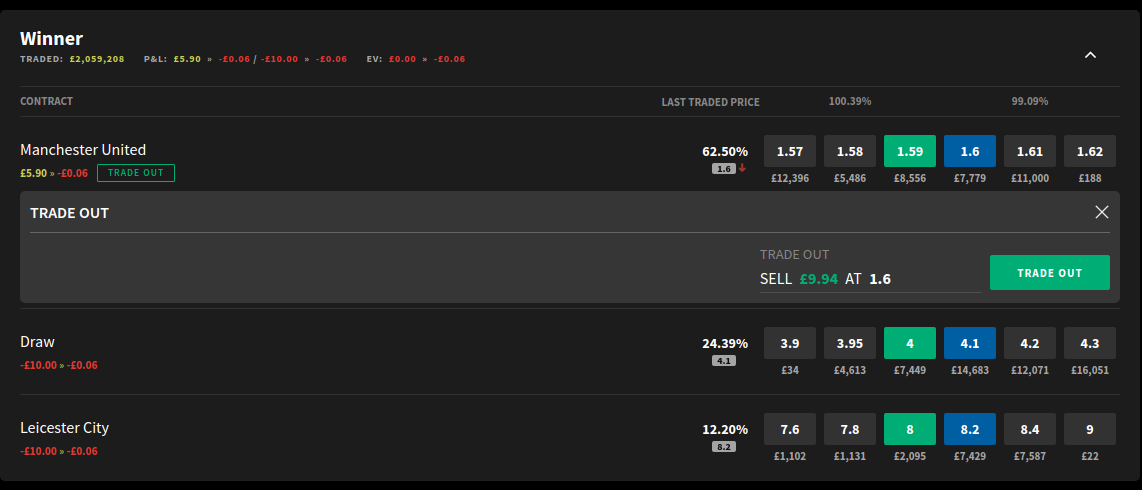 3: Given the prices on an exchange can change frequently before the off and in-play, the amount needed to trade out of your position can change. Therefore once you click trade out, you are shown a confirmation step. Your request to trade out is not guaranteed to be accepted. For example, if the market is suspended or the odds move before your request has been processed. If your trade out request is unsuccessful, a message will be shown which gives the reason why and a new trade out value may be offered to you.
4: To confirm your trade out, click confirm. Once your trade out order has been processed successfully you will see the following notification.

Trade out on in-play markets
The trade out button is also available on events that are live. In-play delays apply to trade out, the same as they do for normal trades. Once you confirm the trade out, there will be a four (for horse racing or darts events) or eight (for all other events) second delay. Delays are used to ensure that there is enough time to suspend the trade out if an incident that would materially affect the price occurs. This is displayed below.

For events managed by Instant Match, the trade out request will be matched instantly and subject to the pending period.
Smarkets best price execution ensures you won't be matched at a worse price. If you can't trade out at the price selected or better, your trade out will be unsuccessful.
Markets available
Our trade out feature is available on all contracts within any market. Please read our trade out button rules.
Exposure and payout
Once you have traded out, any profit made on the contract will be paid when the market is settled, while any reduction in exposure will be credited back to your account immediately.
Why your trade out request may fail
If your trade out request is unsuccessful it may be due to one of the following:
A lack of liquidity in the market
The price may have moved
Note: If a trade out is not accepted we will offer you a new trade out amount based on the revised market prices.
Learn the maths
Using the trade out calculator is simple and efficient, but you should also understand the maths behind the tool. This article explains how to trade out on Smarkets manually.
---