Multiples on Smarkets
Smarkets now allows you to combine multiple selections from our sports events into a single bet that you can choose to either buy or sell.
How to place a multiple bet on Smarkets
Simply add buy selections to your multiples betslip on the right-hand side and then choose whether you want to buy or sell the whole multiple by using the tab at the top of the betslip.
You can choose to add or remove selections from the multiple by using the toggle on each selection.
In the example below, if you combined four football teams to win into a multiple bet, you can choose to either buy the multiple at decimal odds of 42, or sell the multiple at odds of 46.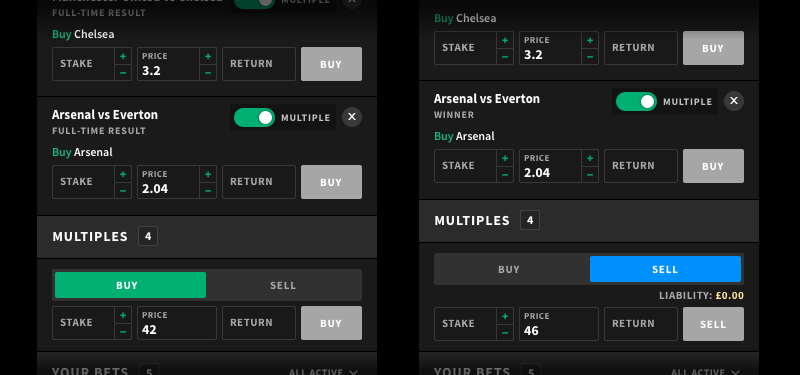 If you buy the multiple, all four teams would need to win for you to win the bet. If selling the multiple, you will win the bet if at least one team fails to win.
For example, you have selected Arsenal, Chelsea, Southampton and Watford to win. If you have sold the multiple and Arsenal, Southampton and Watford win, but Chelsea lose, you will still win the bet as all four teams have not won.
With all multiples, whether buying or selling, Smarkets is the counter-party matching the bet. The price of the multiple is formed from the original odds but not an exact accumulation. You cannot edit the price of a multiple.
Please note that there is no trade out button available for multiples. However, you may hedge your bet by placing a bet on the opposite outcome.
Multiples are handled differently depending on if each selection is taken from the same event or if each selection is from a different event. Our rules on this can be found here. Here are some key things to note about multiples on Smarkets:
| Multiples where each selection is taken from the same event (Bet builders) | Multiples where each selection is taken from a different event |
| --- | --- |
| If one selection is voided, the whole bet will be voided. | If one selection is voided, the odds will be reduced to account for the voided selection. |
| Selections must all be from the same match. | Selections must all be from different matches. |
| Only buy/back multiples are allowed. | Buy/back and sell/lay multiples are allowed. |
| Trade out function is not available. | Trade out function is not available. |
| Not available once events are in-play. | Also available when events are in-play. |
| Available on football (soccer), American football, basketball and tennis (eligible markets listed below). | Any sport is allowed. |
| Selections from outright markets are not allowed. | Selections from outright markets are not allowed. |
| Maximum of 10 selections in each Bet Builder. | Maximum of 10 selections in each Multiple. |
Eligible markets for bet builders:
Football (soccer)
Winner

Over/under first half goals

Over/under second half goals

Over/under total goals

Correct score

Both teams to score

Double chance

Asian handicap (only half goal lines)

Half-time/Full-time

Half time result

Half time correct score

Winner & both teams to score

Winner & over X.5 goals

Both teams to score & over/under X.5 goals

Team clean sheet

Team to win both halves

Team to score in both halves

Team to win to nil

Both teams to score in first half

Both teams to score in second half

Team over/under X.5 goals

Over/under X.5 cards

Over/under X.5 corners

First goalscorer

Last goalscorer

Anytime goalscorer
American football
Winner
Winner (regular time)
Odd or even score
Half time/full time
First Half winner
First Half Asian Handicap
First half Over/Under
First half team over/under
First half odd or even score
Overtime handicap
Over/Under points
Team over/under points
Quarter winner
First quarter over/under points
First quarter Asian Handicap
Touchdowns over/under
Field goals over/under
Turnovers over/under
Sacks over/under
Winner & over/under X.5 points
Winning margin (including overtime)
Team odd or even score
Basketball
Point spreads
Over/under X.5 points
Over/under X.5 points (regular time)
Team over/under X.5 points
First Half Winner (3-Way)
Half-time/Full-time
First Half over/under X.5 points
First half team over/under X.5 points
First half odd or even score
Quarter Result
First Quarter over/under X.5 points
First Quarter handicap X.5
First quarter odd or even score
First quarter team over/under X.5 points
Highest scoring quarter
Tennis
Match winner

Games handicap

Sets handicap

Total games

Player total games

Player to win at least one set

Exact sets

Odd or even games

Set betting

First set winner and match winner

First set winner

First set game handicap

First set total games

First set correct score

First set race to games

Winner and total games
---