Time In Force
The Time In Force drop down menu on Smarkets enables users to dictate the behaviour of a bet should the bet not be instantly fully matched. You can access this by clicking the cog wheel icon at the top right of your bet slip and switching on the Time in Force option.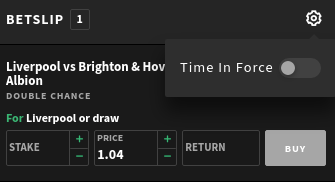 Once you switch on the Time in Force option, a drop down menu will appear under your bet with various betting settings. Click on your preferred setting before placing your bet.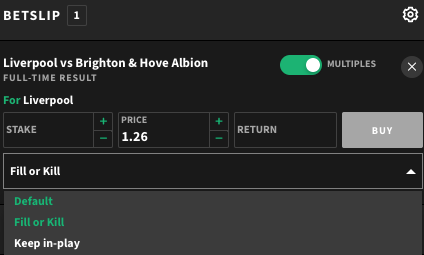 Default
The default setting means that a bet that is not fully matched would not be automatically cancelled. Any unmatched bet or unmatched portion of a bet would then be available to be cancelled by the user, or would be automatically cancelled when the market next halts.
Fill or Kill
The Fill or Kill setting allows users to avoid bets becoming partially matched. When using this setting, if a bet isn't instantly fully matched then it will be automatically cancelled. You can find a guide to using the Fill or Kill setting here.
Keep in-play
The Keep in-play setting allows users to avoid bets being cancelled when the market is halted at the start of an event, or when a market in an event managed by Instant Match is halted by a material event. You can find our full keep in-play rules in section 10 of our betting rules. You can also find a guide to using the Keep in-play setting here.
---