Keep bets in-play
The Smarkets 'keep bets in-play' feature allows users to leave their unmatched bets live once the market goes in-play - giving them more opportunity to be matched at the price they've requested.

Normally unmatched bets are automatically cancelled when the market is halted just before going in-play. Now, for markets that are scheduled to be turned in-play, users can request that individual unmatched bets are not cancelled when the market is turned in-play.
This feature means that users who want to be matched at a certain price will not have to re-place the bet when the market goes live, but this does not guarantee that your bet will be matched.
The market will halt as normal once the event starts, but when it turns in-play all bets selected with the 'keep bets in-play' feature will be available for other users to match.
Please read our keep bets in-play rules.
How to use the keep bets in-play feature
1: Enable the 'Time in Force' drop down menu by selecting the settings cog at the top right hand side of the page. This is only available if you have a bet in your betslip.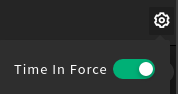 2: Under each bet, there will now be a box that is set to 'default'. Change this to 'Keep in-play' to enable this feature.
This option must be changed individually for each bet for which you want the keep in-play feature to apply.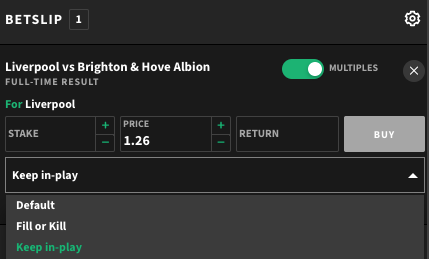 Default setting
The default setting will cancel unmatched bets when the market is halted. You will need to select every bet individually to keep bets in-play.
Reduction factor
All unmatched bets will be cancelled, regardless of whether keep in-play is selected, when a non-runner is removed from a horse racing market if a reduction factor is applied.
Note: If your bet is matched in-play and a material event occurs during the 8-14 second confirmation period, the bet will be voided.
---