How to use the 'Your Bets' section
The 'Your Bets' section is a summary of all of your active and recent bets. It is a useful tool for checking the status of your bets.
What is displayed on 'Your Bets' can be filtered. This is also where you can cancel unmatched bets. 'Your Bets' is located on the right hand side of any Smarkets web page on the desktop site. It can be found directly under your balance overview.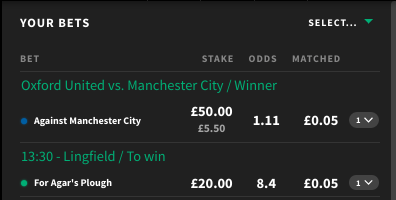 Using filters
You can filter 'Your Bets' in the following ways:
All active bets
Unmatched bets
For bets
Against bets
Recently settled bets
Partially matched bets
The default filter displays all active bets. Click the menu to access the filter options. Select the filter you want, and 'Your Bets' will update.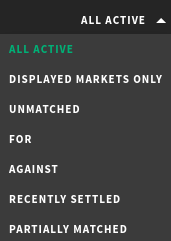 What the 'Your Bets' section displays
The section displays the bet, stake, odds and how much of your stake has been matched.


The liability for lay (Against) bets is displayed below the backer's stake. In the example below, the liability is £10.80.




If you have multiple bets on the same outcome on a market, they are combined into one bet in 'Your Bets'. The average odds for all bets on each selection are displayed.


To display all individual bets placed on each market, simply click the number symbol to the right on the specific bet.
Cancelling bets
You can cancel a bet if it isn't fully matched. The value in the 'matched' column shows how much of your stake has been matched. If it's in red, part or all of your bet is unmatched.
---