How to use the Watchlist
What is the Watchlist?
The Watchlist feature on Smarkets enables you to keep your favourite events in one place for easy access. Once an event is added to your Watchlist it will remain there until either you remove it or the event ends.
How to use the Watchlist
To add an event to the Watchlist, simply click the grey star at the top right-hand side of the event page.
To access the Watchlist, navigate to it via the link towards the top left-hand side of page.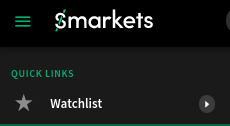 Your favourite events are now listed in one place. To remove them, simply click the green star.

---