How to use your account page
The account page provides a list of all bets placed and transactions made on your account.
What's displayed on my account page?
The account page displays information for all of your betting, market and transaction actions on Smarkets.
Using the filters
When on your account page you can apply the following filters:
Transaction type
Time frame

How to apply a filter
To apply a filter simply click the dropdown menu located at the top of the page (as displayed below).




From here you can select the relevant filters you wish to apply. You can select multiple filters and those chosen will be displayed at the top of the page.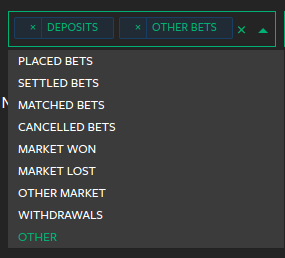 Understanding your account page
Your account page contains information for all historical activity on your account.
Running balance
A running balance figure is displayed. This is your balance before exposure for current bets has been taken off, meaning it may differ from your available balance at the top of the page. Your account page balance minus your exposure will equal your available balance.
Timestamp
When placing a bet, the account page will confirm the timestamp of each stage of the bet placing process. Therefore, you will be able to see when a bet was placed as well as when it was matched.
Liability
Bet liability refers to the amount you are risking when placing a bet. Liability can be viewed for lay bets under the backer's stake in the 'stake / liability' column.
Below is the full life cycle of one bet.



Market settlement
If you have placed multiple bets on the same market, when settlement occurs your account page will show the consolidated settlement for this market.
This means you will see your net result for that market, not your breakdown for each individual bet. This is because we only charge commission based on net winnings and not each winning bet.
The below example shows several bets on one market, with the total settlement made and commission applied.



Additional details
The Additional details section (as shown below) is displayed at the top of your account page. This displays the following:
Your available balance. 
Your total exposure - the maximum amount you could lose - for all currently unsettled bets.
Your 30 day profit/loss (all settled bets for the past 30 days).
The most you could win for all currently unsettled bets.

---