How to set your own odds
A betting exchange allows you to set your own odds. There is no guarantee that your bet will be matched, so putting in more favourable odds than what the current market price offers, will increase the chance of your bet being matched.
You can set your own odds regardless of whether there are odds currently available or not.
Setting your own odds
Select the green (back) or blue (lay) box, in accordance with the bet you are looking to place.

Adjust the odds by using the arrows in the 'Price' box or manually type in your desired odds. In the below example, a back bet with odds of 2 can be placed even though the current back odds are 1.54.


Your bet will be placed into the market, and will be available should another user wish to match your bet at those odds.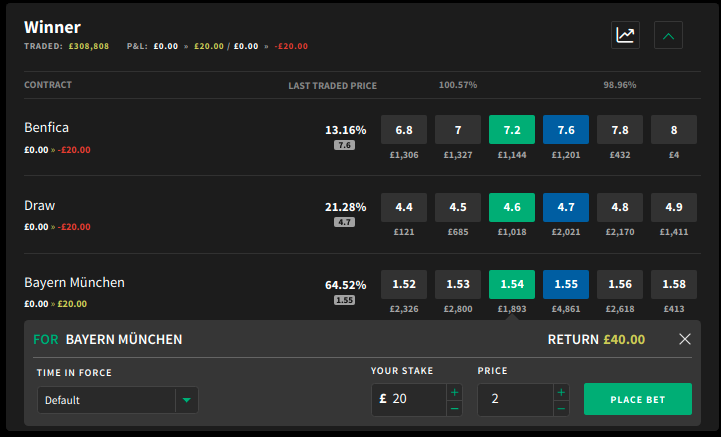 Note: The odds you can set are limited to a set specificity. For odds below 6, odds can be altered by increments as small as 0.01. The higher the odds, the larger the increments become. If you attempt to place a bet with invalid odds, the bet cannot be placed. You can use the up/down arrows on the price box to move to the nearest valid odds.
Trade Now
---