Fill or Kill
The Smarkets Fill or Kill feature allows users to avoid bets becoming partially matched. When using the feature, if a bet isn't instantly fully matched then it will be automatically cancelled. 
This ensures users never encounter situations where they are stuck with a partially matched bet that they do not want.
How to use the Fill or Kill feature
1: You can select to use the Fill or Kill feature on any market by accessing the Time In Force drop down menu.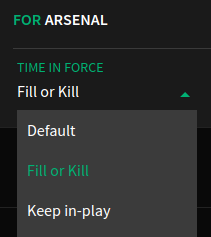 2: Now place your bet. Before confirming your bet, make sure the Fill or Kill feature is enabled.

3: If the bet cannot be instantly fully matched, the following message will appear to confirm that the bet has not been placed.

Default setting
The default setting will be that Fill or Kill is off. You will need to select the option for every bet individually.
---