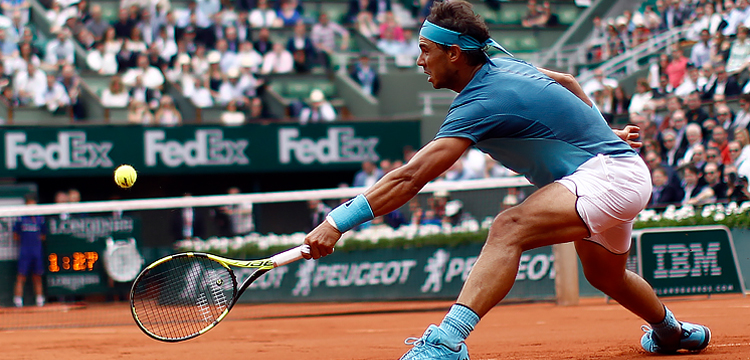 No other sport has the variety that tennis's different court surfaces bring. Ahead of the French Open, tennis traders should consider what effect the clay court has, and how this can help your French Open tennis trading strategy.
No tennis court plays the same
There are three main tennis surfaces - hard, grass and clay. If you're betting on tennis you should be aware that all court surfaces - and even their environment - have a variety of characteristics. Some courts are faster, while others cause the ball to bounce higher.
Court surface, altitude and weather can all impact the outcome of a tennis tournament and the likelihood of a player's success. Understanding these intricacies more accurately than other users can present a number of betting opportunities.
What we know about the clay court
We know that clay courts have very distinct make-up when compared to grass and hard surfaces. The rough nature of the surface means the clay generates a lot more friction when the ball bounces off the ground, resulting in the tennis ball:
Slowing off the surface
Bouncing higher
How does this increased bounce and decrease in speed impact the players and your tennis betting strategy?
Relationship between tennis aces and court surface
Logic would suggest that the faster a surface is, the more favourable to the server, which would be evident in the number of aces and breaks of serve.
The three-year (2014, '15 and '16) data set below illustrates a significant difference in aces per game, service hold percentage and return games won between clay courts and other surfaces:
| | | | |
| --- | --- | --- | --- |
| Surface | Aces per game | Service hold % | Return games won % |
| Hard | 0.62 | 81% | 19% |
| Clay | 0.38 | 78% | 22% |
| Grass | 0.67 | 84% | 16% |
The three-year aces per game ATP average is 0.55 - just over one ace served every two games. However, the court type has a big impact on the number of aces served.
As the table shows, the server is much less effective on clay – one ace is sent down on average around once every three service games.
So in a five-set thriller (6-3, 6-4, 4-6, 4-6, 6-3) at the French Open the average number of aces would be 18, compared to 32 if the same score occurred on the grass courts of Wimbledon.
The service hold percentage is also down for games on clay, meaning more breaks of serve occur which is backed up by the number of games won by returners - higher than the other two surfaces.
The significance is that it's easier to score points when returning on clay - the stats show the returner gets on average an extra 3% chance of breaking serve on clay compared to hard courts and 7% against grass.
This may not sound a huge difference, but that's per service game and when you consider how many potential games there are in a Grand Slam match, the numbers really add up.
This data highlights that clay events often produce extremely different circumstances, with fewer service holds, aces and more break point opportunities, when compared to other surfaces. While this benefits anyone returning serve, it also means the surface is ideal for consistent, powerful baseline players – like the king of clay Rafael Nadal or Novak Djokovic.
How does the switch from hard to clay court affect the top players
ATP players move from hard court to clay tournaments in March each year. For a betting perspective it would be good to know how players' games are affected by the transition.
The table below compares hard and clay court career mean averages for the current ATP top 15 (minus Roger Federer as he pulled out of the 2017 French Open):



Less aces
Unsurprisingly, each player has hit significantly fewer aces per game on a clay court than hard. On average, the ATP top 15 has hit 29.30% fewer aces on clay than on hard courts.
Frenchman Jo-Wilfried Tsonga has 44% fewer aces on clay compared to hard, while the big-serving Milos Raonic serves an ace every two service games - but this is still a drop of 31%.
More breaks of serve
Thirteen of the top 15 hold their serve less often on clay acknowledging the fact that clay courts offer receivers more opportunity to return the ball.
American Jack Sock has the same service hold percentage on hard and clay, but Japan's Kei Nishikori holds more serves on clay (81%) than hard court (80%).
Based on the data above, and taking into consideration further research, this could present a betting opportunity as few people would expect a player to hold their serve more on clay compared to hard.
Higher return of service games won
Twelve players improved their return games won percentage on clay by more than 10%. This indicates that the opportunity for breaks of serve increase significantly from hard to clay, but also sheds light on the reason behind Rafael Nadal's dominance at the French Open - he wins a remarkable 42% of games served at him, which is an increase of 44.83% compared to hard surfaces.
This clearly demonstrates that understanding a player's style is particularly important for betting on the French Open and other clay tournaments. Clay tennis can be labelled as one-dimensional, favouring hard graft and consistency rather than flair and technical ability.
The data, however, shows that while other court surfaces are a simple clash of serves and groundstrokes, when playing on clay a more rounded game is needed.
Other French Open betting factors
Another aspect to consider when betting on the French Open is that Grand Slam matches are played over the best of five sets, with the finalists needing to play seven matches in a fortnight - understand how by playing best of five-set Grand Slam matches instead of three-set ATP tournaments increases the favourite's chances of winning the tennis match.
Couple this with previous research by the ATP, which showed that the average length of a point on grass was just 2.7 seconds compared to 8.2 on clay - meaning games generally have much longer rallies.
This means that while fitness is a crucial aspect of success for players in Grand Slam events, and getting through the early matches without playing long, five-set matches can be critical, clay contests are arguably a stronger test of a player's fitness level than other surfaces.
Apply this to betting
Sport rarely has the diversity and intricacies that tennis's differing court surfaces present. This article highlights that serious tennis traders should understand the significance that each court type brings, and treat each individually when incorporating into your betting analysis.
Trade Now