What is in-play betting?
In-play betting allows bettors and traders to place bets on an event once it has started. The nature of in-play betting allows users on a betting exchange to trade the market, taking advantage of its volatility. We explain what in-play betting is, and its advantages.
How does in-play betting work?
Betting exchanges like Smarkets introduced in-play betting, which has given bettors a platform to apply trading techniques to lock in a profit - by backing and laying - or reduce their risk on a market much like a stock trader would on the stock exchange.
Betting in-play allows you to react to live events and situational variables - eg. goals and points, tactical changes, injuries, weather - associated with each sport or event.
In-play trading increases the potential to find value in the market by reacting to the volatility once the event has started, adding an extra dimension to your betting.
Advantages of in-play betting
In-play betting offers you a new dimension when betting on sports and has a number of advantages compared to pre-game. Instead of being restricted by betting pre-game odds, you can now trade on the many live situational factors which impact odds movement. The volatility which creates these odds movements in the market naturally creates a number of betting strategies for you to exploit.
Odds movement
Odds in a market fluctuate as the event start draws closer. The main factors driving odds movement are:
New information
Market confidence
Money
Situational factors once the event has started
On a betting exchange, the initial prices are seeded by traders who provide liquidity and a spread based on their initial confidence in the market information, while at a bookmaker it is the oddsmakers.
As the event start approaches, more information becomes available and confidence in the market increases, so more money is placed, resulting in price movements.
Due to the wisdom of the crowds, the market constantly incorporates new information, resulting in the odds offered reflecting the true price of the market.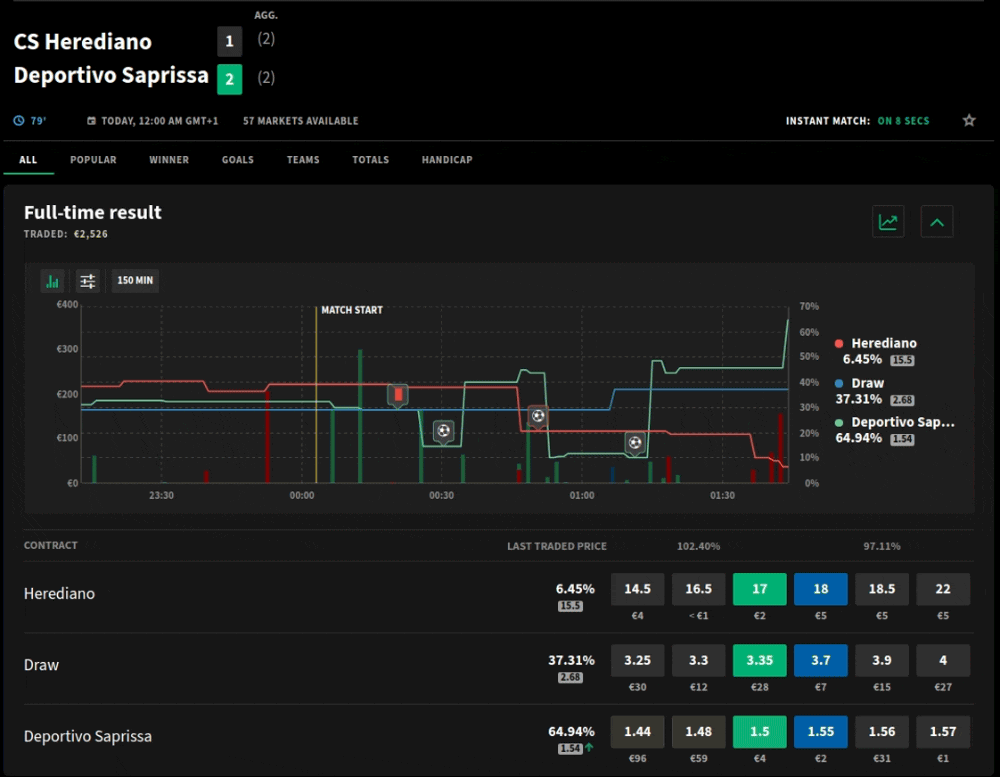 As the gif above on a football event highlights, once the market goes in-play there is an influx of new information. The market is constantly reacting to this, causing huge odds movements on a second-by-second or minute-by-minute basis to reflect the ever-changing nature of live sport.
This volatility in such a short time frame creates a number of betting opportunities for you to take advantage of and find an edge by analysing the action as it unfolds, and by understanding the situational factors and their impact more accurately than other traders or bookmakers.
In-play trading strategy
Betting in-play on a betting exchange allows you to trade your position. The principle of trading in-play sports betting markets is identical to trading on the stock exchange.
Instead of buying and selling shares, you back and lay the outcomes of an event allowing you to:
Guarantee profit whatever the outcome of an event
Reduce your risk and potential losses
To help you understand how in-play trading works, let's look at two examples:
Guaranteeing a profit by trading in-play
Let's say you have backed £50 on Tennis player A to beat Tennis player B pre-game. The odds are as follows:
| | |
| --- | --- |
| Player | Odds |
| Tennis player A | 2.36 |
| Tennis player B | 1.72 |
You know Tennis player A is playing on her favourite clay court and is known to be a fast starter, while Tennis Player B is struggling for form, despite being much higher in the world rankings.
Player A has taken a convincing 1-0 (6-3) set lead, given she is now one set away from winning her in-play odds have now shortened significantly and her lay odds are at 1.33. The odds movement has created a perfect opportunity for you to trade the market and lock in a guaranteed profit.
To do this you would use the betting exchange to make a lay - betting she won't win - bet of £88.72 on Player A at odds of 1.33 - learn more about lay betting.
You now have to make the decision whether to let your original bet ride and risk losing your stake for a profit of £68 (- commission), or trade out and guarantee a profit of £37.95.
Hedging your bets in-play to minimise your risk
Now let's imagine you have placed a £100 bet on Jason Day to win the Masters at 16.00. After two rounds Day is inside the top 15 and five shots off the lead, with his odds at 18.00.
Into his third round, you notice he isn't striking the ball well but manages to save par on the first two holes. If you believe his woes will continue you can place a lay bet on him not to win, and reduce your overall risk.
Placing an £88.88 lay bet would result in you making an overall market loss of £11.11 - highlighting how in-play betting allows you to reduce your losses, and instead of losing £100 were Day not to win, you would lose just £11.11 of your original stake.
By betting in-play with a betting exchange you can take full advantage by trading your position on a market multiple times during a single event to reduce risk or optimise profit.
In-play arbitrage opportunities
Due to the fast-paced and ever-changing pricing on live sports, in-play betting creates a number of arbitrage opportunities - learn what arbitrage betting is, and how to utilise a back-to-lay arbitrage strategy on an exchange.
In-play arbing is popular amongst advanced arbers because there is lower competition when compared to pre-game arbitrage, a higher percentage return and a lower bankroll is usually required.
However, it's not as easy due to the complexity of placing live arbitrage bets and there is added risk, as the prices move so quick.
Betting in-play: Betting exchange vs Bookmaker
In-play betting is available on both bookmakers and betting exchanges like Smarkets, however, exchanges are more popular for in-play betting. Here's why.
Best odds
When betting in-play with a bookmaker you can only bet on the odds they offer, which includes their margin, meaning they price markets in their favour with unfair odds.
In comparison, a betting exchange offers more competitive odds, as the market is driven by supply and demand, which results in better and more competitive odds.
Backing and laying
When betting in-play with a bookmaker you are restricted to just backing the winner. With a betting exchange you can both 'back' and 'lay' an outcome - so bettors can act as a 'bookmaker' by setting odds for an event, or back odds set by other users on the exchange.
This gives you the ability to trade positions, like explained above, to reduce risk or optimise profit. Even if you can cash out with a bookmaker, your return is likely to be better on an exchange due to the optimal pricing.
Apply this to betting
In-play betting is fundamental for any serious trader and opens up a number of new and potentially profitable betting avenues for you to explore.
Now you know what in-play betting is and how it creates numerous trading opportunities for you to reduce your risk or lock in a guaranteed profit, you're in the perfect position to start trading with Smarkets's industry-low fixed 2% commission.
---