Why you should consider home advantage for football trading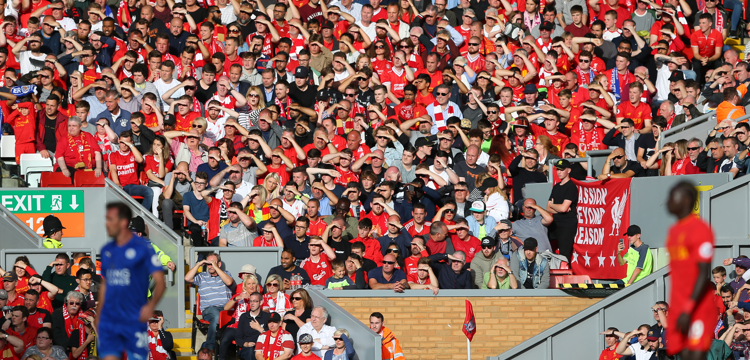 Understanding how home advantage affects football results is key to finding football betting value and modelling your own football trading odds. We show you how to calculate home advantage and explain what factors combine to produce a bias.
Evidence of home advantage in football
If you didn't already know, sports teams perform better at home than when they are away or at a neutral ground. Football is considered to have the largest home advantage of any sport.
Below is a statistical snapshot of the 2016/17 Premier League season:
607 home goals
457 away goals
49.2% of games won by the home team
28.7% of games won by the away team
22.1% of games ended in a draw
A similar pattern has occurred every season since 1888, where home teams have scored more goals and won more games than the away team over the course of a season.
It's also not just domestic football which is affected by a home bias. Jim Albert and Ruud H. Koning's research analysed nearly 9,000 international matches between 1993 and 2004.
They found that international home sides won 50.5% of games, with the away team winning 24.5% and the draw occurring 25% of the time. All FIFA registered teams were considered in this report - elite nations such as Spain, Brazil, Germany, France and Italy showed an increased win rate above 60% at home.
Home advantage also appears to benefit host nations at the FIFA World Cup. In the tournaments spanning 1930-2014, the home team has progressed to the quarter-finals on 17 occasions, while they have reached the semi-finals 13 times and have been outright winners six times.
Historical Premier League home advantage data
As an example we analysed every Premier League season to emphasise our point about home advantage and see how consistent it is.
How often does a home Premier League team win
The graph below shows the home win, draw and away win percentage for each season since the Premier League's inception. The consistency across 25 seasons of EPL football is impressive with only a 10% differential between home win %.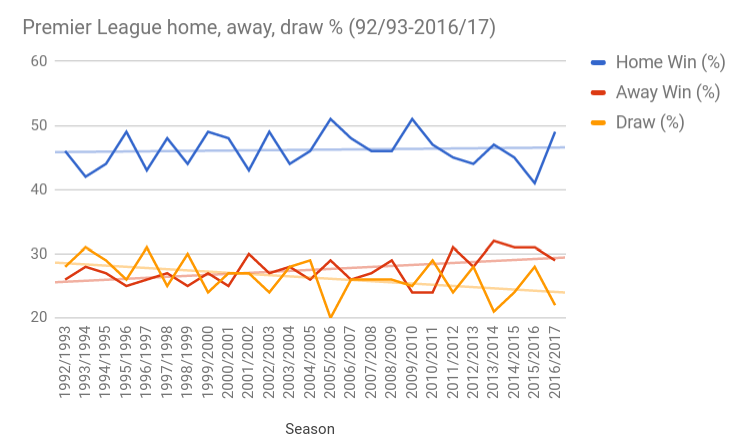 On average, Premier League teams consistently win around 46.2% of home games, while the draw occurs around 27.52% of the time and the away team are victorious in 26.32% of games.
Interestingly, albeit a small shift, the trend is suggesting a move from draws towards away wins.
How many goals does a Premier League team score at home
Both Premier League home and away goals are increasing over time - with the sharpest increase coming in away goals. Despite this, there is still a clear home advantage based on goals scored by the home and away team.
On average, since 1992/93 the home team scores around 1.53 goals compared to 1.12 for the away team.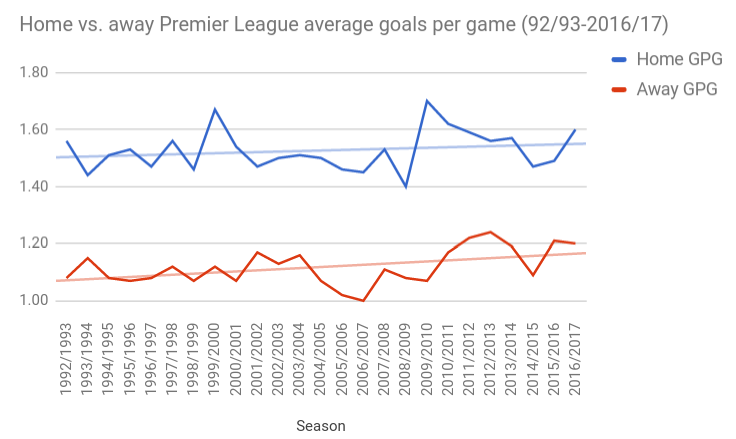 How to calculate home advantage for football betting
While these stats suggest every team/nation performs better at home than on their travels, it's impossible to create a universal home advantage. This is due to football teams being fundamentally unbalanced.
To calculate a base home advantage for a team use this simple calculation:
Home advantage = (home goals scored - goals conceded at home) / number of home games played in that season
Let's use Chelsea in their 2016/17 Premier League-winning season as an example.
Chelsea home advantage = (55 - 17) / 19 = 2.00 goals
Interestingly Chelsea won by two or more goals in 63.2% of Premier League home games last season. This data would be useful for bettors using Asian Handicap markets - understand how to bet on Asian Handicap markets.
Let's calculate home advantage for the 13 teams that have been ever-present in the Premier League for the past five seasons.
| | | | | | | |
| --- | --- | --- | --- | --- | --- | --- |
| Team | 2012/13 | 2013-14 | 2014-15 | 2015-16 | 2016-17 | Average HA |
| Manchester City | 1.37 | 2.63 | 1.58 | 1.37 | 1.05 | 1.60 |
| Chelsea | 1.32 | 1.68 | 1.42 | 0.11 | 2.00 | 1.31 |
| Arsenal | 1.26 | 1.32 | 1.42 | 1.05 | 1.21 | 1.25 |
| Liverpool | 0.89 | 1.84 | 0.53 | 0.58 | 1.42 | 1.05 |
| Manchester United | 1.37 | 0.42 | 1.37 | 0.95 | 0.74 | 0.97 |
| Tottenham Hotspur | 0.58 | 0.37 | 0.37 | 1.05 | 2.00 | 0.87 |
| Everton | 0.84 | 1.00 | 0.32 | 0.26 | 1.37 | 0.76 |
| Southampton | 0.11 | 0.47 | 1.26 | 0.89 | -0.21 | 0.51 |
| Stoke City | -0.05 | 0.53 | 0.53 | -0.11 | 0.00 | 0.18 |
| West Ham United | 0.63 | -0.05 | 0.37 | 0.42 | -0.63 | 0.15 |
| Swansea City | 0.11 | 0.37 | 0.26 | 0.00 | -0.37 | 0.07 |
| West Bromwich Albion | 0.37 | -0.16 | -0.11 | -0.32 | 0.26 | 0.01 |
Manchester United were notoriously good at Old Trafford under Alex Ferguson. In the five previous seasons from 2007/08 they were the top performing team at home, however since he retired at the end of the 2012/13 season, United have never met the same standards at home.
Despite having four managers since Ferguson, United still haven't been able to reaffirm their home dominance. Bettors must decide whether or not this is variance, and if United's home advantage will return in the future?
West Brom and Stoke are often labelled as tough places to visit, but their five-year home advantage is low, almost non-existent in West Brom's case.
Is it the Tony Pulis factor, once manager of Stoke and now in charge of West Brom? Pulis's one full season in charge of West Brom returned their second best home advantage. Yet his last four seasons as manager of Stoke resulted in a home advantage of 0.36, 0.15, 0.68 and 0.26, which is significantly higher than the 0.18 average for the last five seasons.
Interestingly, only Newcastle in the 2015/16 season have been relegated with a positive home advantage. Winning your home games is a key to success, which is backed up by the data.
What factors influence home advantage
The next step is to try and understand what factors combine to influence home advantage so you can attempt to gauge it accurately.
The crowd
Fans certainly believe they make an impact on the outcome of the result. But is this actually true? Gauging the impact of crowd support is difficult. For example, according to research by Pollard (2006), the exact relationship between crowd size and home advantage in football is unclear, while the advantage is still evident with tiny crowds.
Crowd density, proximity to the pitch and the intensity of support should all be considered.
Travel
Understanding how travel disadvantages the away team is vital. Pollard (2006) and other research papers identify consistently that home advantage is reduced in local derbies where no travel is involved.
Familiar surroundings
How familiar a team is with a stadium and its conditions should provide an advantage. Albeit difficult to quantify, according to research, there is a home advantage for teams who:
Use an artificial pitch (Hilditch. 1993)
Pitch size was at the maximum or minimum allowed (Pollard. 2006)
Also, evidence from Seckin and Pollard (2007) showed evidence that familiarity of local climates and altitudes had a positive effect on home advantage.
The home advantage also seems to disappear when a team moves stadium. In 2016/17 West Ham relocated to the Olympic Stadium and dropped from a 0.34 home advantage in the previous four seasons to a -0.63. This is effectively an entire goal swing caused from moving ground, and their home advantage being eradicated.
Team tactics
Modern football ensures teams playing at home and away approach the game differently from a tactical viewpoint. Sides no longer employ the same tactics as they do at home - where the emphasis is on them to attack - and instead chose to sit deep, compact, and aim to counter-attack, when the home team over commits.
Referee Bias
There is overwhelming evidence that referees decisions are biased towards the home team. Moskowitz and Wertheim (2012) found that the referee was the most influential factor on home advantage, and that home teams gained a small bias from the referee. They did make it clear that this is not done consciously, instead, the referees were affected subconsciously by the emotion of a home crowd.
A study by Harvard Research Assistant Ryan Boyko on 5,000 Premier League games from 1992 to 2006 found for every 10,000 home team fans, home advantage increased by 0.1 goals. It also highlighted that inexperienced referees were more than likely to award penalties to the home team.
Between 1992 and 2014, penalties in the Premier League have led to goals 85% of the time - of these 1,666 penalties, 63% were awarded to the home team. Therefore bettors should profile referees when building a betting model to identify value.
Apply this to betting
Knowing what home advantage a team may have before the start of a game will ensure you are an informed bettor.
This goal-based home advantage calculation is a useful tool to form the basis of an Asian Handicap betting strategy. This then allows you to identify value, especially on lower rank football leagues.
---