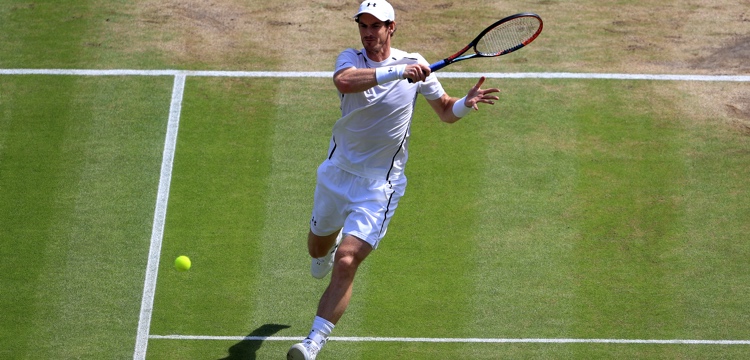 When trading on Wimbledon you should consider how the grass courts impact the result and determine specific game patterns. We investigate their effect and how you can use this data as part of your Wimbledon tennis trading strategy.
Understanding tennis court surface differences
Tennis, unlike other sports, is played over three differing surfaces - hard, grass and clay. It's paramount for bettors to understand the characteristics of each court type. 
Before betting, you should understand how the court will play and which type of player it favours. Having more knowledge than other bettors can present you with trading opportunities on players who are undervalued by the market.
What we know about grass courts
Grass courts are considered to be more unpredictable due to their natural surface type. Because of this they produce less friction than other courts creating:
Lower bounce
Fast speed off the surface
With the tennis season moving from clay - the slowest court - to grass, bettors should know how this lower bounce and increase in speed impacts the players and your tennis betting strategy.
Analysing court speed
To analyse the court speed, a good method is to look at the data for the number of aces, service points won and return points won. 
The three-year (2014, '15 and '16) data set below illustrates a significant difference in aces per game, service hold percentage and return games won between grass courts and other surfaces:
| | | | |
| --- | --- | --- | --- |
| Surface | Aces per game | Service hold % | Return games won % |
| Hard | 0.62 | 81% | 19% |
| Clay | 0.38 | 78% | 22% |
| Grass | 0.67 | 84% | 16% |
The three-year aces per game average for the ATP is 0.55, which equates to just over one ace served every two games. On grass, however, this increases to 0.67, with two aces every three games. 
For context, in a five-set match (6-3, 6-4, 4-6, 4-6, 6-3) at Wimbledon, the average number of aces would be 32, compared to 18 if the same score occurred on the clay courts at the French Open.
Service hold percentage is also higher on grass courts at 84%, meaning fewer breaks of serve occur. This is highlighted by the percentage of return games won over the last three years at just 16%.
This signifies that it's harder to break serve on grass. A player on average is 3% and 7% less likely to break a serve on grass when compared with hard and clay courts respectively.
These numbers are quite significant, and when you consider this is per service game, the bias towards strong servers is evident.
Compared to other surfaces, it's clear from the data above that grass courts are the fastest by some distance. The extra speed of the court present opportunities for players to hold serve more often, as well as recovering from difficult situations in-game, such as a break point down on serve, and ultimately creating longer, tighter games.
Now you understand the characteristics of grass courts, analysing players who you think are suited to the surface can present value odds and good trading opportunities - backing big servers and then laying the bet to lock in a profit.
Assessing the ATP top 10
With grass court characteristics identified, we should now analyse which players are likely to create the biggest impact at Wimbledon. 
The table below compares the three-year (2014, '15 and '16) grass court mean averages for the current ATP top 10, and three notable big servers and one grass court specialist outside of the ranking. Please note, Rafael Nadal only has data from 2014 and 2015 as he missed the 2016 grass season.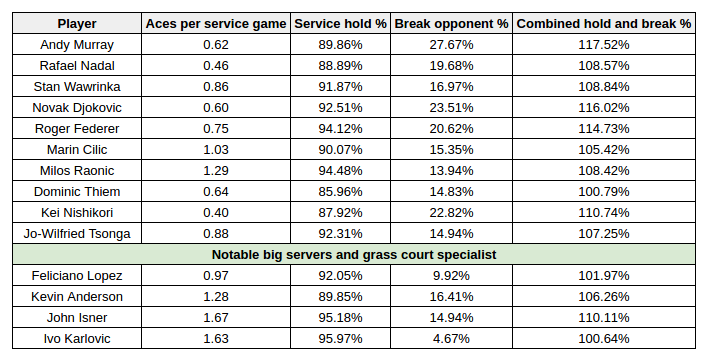 Based on these stats, Jo-Wilfried Tsonga, Milos Raonic, Feliciano Lopez, Ivo Karlovic, Kevin Anderson and John Isner will all be tough to break in matches - something you should consider when betting live. 
You can't, however, win tennis matches without being able to win points on your opponent's serve, and this is where break opponent percentage is key. 
We know because of the grass court's make-up that it's harder to break serve and this is represented in the table - six of the top ten ATP players break their opponent's serve less than 20% of the time, with Milos Raonic the lowest at 13.94%.
This shows that we can expect close sets involving these players, even when they start matches as overwhelming favourites.
The combined hold/break percentage identifies which players are best suited to grass courts.
It isn't surprising to see Andy Murray, Novak Djokovic or Roger Federer lead the ratings with 12 Wimbledon titles between them. However, their combined stats are short of the 120% mark which can be used to identify elite players. 
Instead, value could be found on Kei Nishikori and John Isner - both players have better statistics than two of the world's top three, Stan Wawrinka and Rafael Nadal.
This demonstrates that understanding a player's style is particularly important for betting on Wimbledon and grass court tournaments in general.
Wimbledon betting strategy
The characteristics of grass courts offer a number of in-play trading opportunities. Let's look at how this data can be used for a Wimbledon betting strategy:
Trading on big servers
Now we know grass courts favour big servers, and their average hold percentage is increased, they should hold around 90% of service games on grass.
This creates in-play trading opportunities on matches involving these players, especially when faced against poor returners. For instance, if a big server goes down 0-30 in a crucial point of the set, this would create a low-risk opportunity to trade on them.
It's also worth noting that the market prices should take big-serving grass court specialists into account, so a potential trading avenue could be to look for players that are overvalued.
Closer matches and key points
We know that grass courts often create tighter matches as it is more difficult to break opponents' serves. Therefore we can say that a number of key points or tie-breaks can have an impact on the outcome compared to other surfaces.
Let's look at the data to see if grass court characteristics hamper Wimbledon favourites winning in straight sets compared to other majors. The data is collected from 2012-2016 and shows the percentage of ATP Grand Slam sets that finished 3-0, 3-1 and 3-2: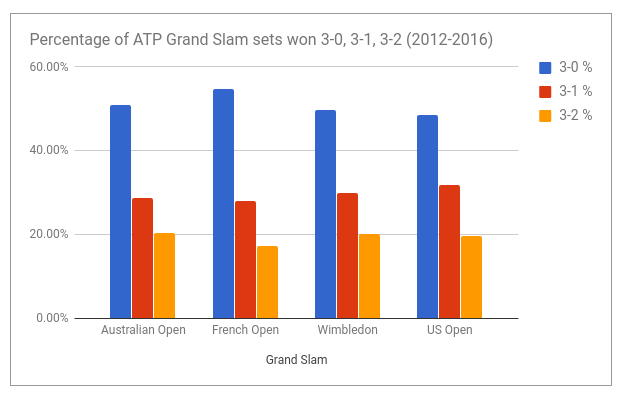 Only the US Open produced fewer 3-0 results than Wimbledon, while the grass court major was 49.76% - 2.61% below the average and 5% less than the recent French Open.
Wimbledon also sees a high 30% of matches ending 3-1 and 20.23% in 3-2. When trading you can use this information to find value in live tennis markets - backing the favourite when they lose the first set, or backing the player losing 2-0, and then trading out of the market for a profit.
Other Wimbledon betting factors
Fitness
You should also consider fatigue when betting on Wimbledon as matches expand to best-of-five compared to best-of-three in normal ATP tennis tournaments - understand how this increases the favourite's chances of winning.
This means to reach the final, players need to play seven matches in a fortnight, and given grass courts creates longer set matches than any other surface, you need good fitness and recovery levels to optimise your chances of winning.
Weather
The weather at Wimbledon will have an effect on every aspect of tennis. Hotter weather creates more aces, as the ball moves through the air quicker, while it also causes more fatigue. You should always consider the weather and its likely implications on a match when trading the market.
Best odds
Whatever you trade on you should always look for the best odds to improve your long-term profitability.
Find out why Smarkets offer the best tennis odds compared to bookmakers and other betting exchanges charging 5% commission - the difference in profit can have a huge impact on whether or not you are profitable in the long run.
Apply this to betting
The differences in tennis court surface suit certain playing styles over others. Tennis bettors should take into consideration the specific dynamics of the surface, and how that affects outcomes. Then, when you find value, bet with the best odds - which is what Smarkets offers with our industry-low flat 2% commission.
Trade Now